Download:
[GOS] Hack for League Of Legends - UPDATED for 5.13 and 5.14 patch!
!
[ANTI-LEECH]
Scripts Repository (Updated Every Day)
Champion Configs
How to Add config - Scripts Tutorial:
Step 1: Download
AIO Tool For GoS
Step 2: Click Open Config File
Step 3: Ctrl F and find your Champion Name.
- If your champion name doesn's exist you can copy and paste config to last line of config file
- If your champion name exists you can replace current config champion [ChampionName] and all the lines begin with the ChampionName with new config in my topic.
Step 4: Save and efficient game.
If you have some problems with the GoS loader, here you can check for some basic help!
First check this thread: How To Use GoS (Noob-Friendly Tut) by Ohm-BTW ty for laoder.gif Ohm
Once you do that, if it's working, you are set to play!
Go ahead and enjoy!
If you have some error, crashes, or other problems, continue reading.
1. INSTALLATION AND CONFIRMING INSTALLATION WAS DONE CORRECTLY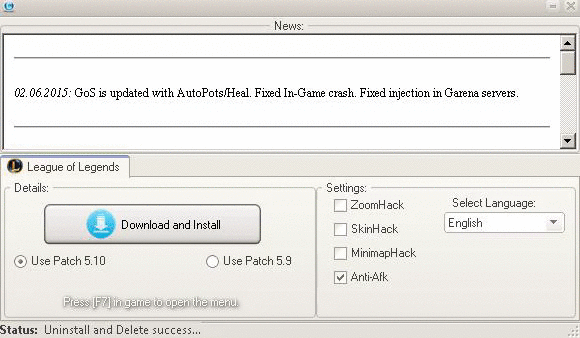 Once you downloaded the loader.exe and start it for the first time, go ahead and do this:
3d9d3d1079ea33cd3928b4495ccdf32b.gif
*credits to Ohm for the installation gif*
it will created 2 folders, one in you %appdata% and other in you C drive.
Go and confirm it installed correctly.
for appdata:
In the "LoL" folder you should have 4 files:
English.ini
GamingOnSteroids.ini
new.dll
old.dll
For C drive, go to My computer->C:-> and look for folder named "GoS".
Inside should be "loader.exe"
If you have all those folders and files, GoS was installed correctly on your system, so that means you have other problems.
2.ERRORS
If the loader gives you "403 error, failed to download web info" you are most likely from Vietnam , and you can check this thread for help: [TUT] How to fix 403 error in Vietnam? by xGoldenS
If the loader gives you general "failed to downloaded web info", the issue might be with server (check if forum is up) or you Firewall or you internet connection.
If it's firewall, make sure to allow, loader.exe access to internet. If you don't know how, do a Google search, or ask for help in shoutbox.
If it's you internet connection, make sure you can access the internet/this website.
For other errors/crashes, please make a new thread in GoS loader help, with as much detail as you can, and screenshots of the errors you get.
3.MENU IS NOT SHOWING/MENU IS MISSING TEXT
If you managed to make loader work, and confirmed everything is installed correctly, but you cannot get menu after pressing F7, try this:
close loader.exe if it's opened
go in game
after champion have spawned, alt-tab to, and activate laoder.exe
alt-tab back to game
wait 5-10 seconds and press F7 once and it should show up.
If you still cannot get the menu to show, you AV or other security tool might be preventing loader.exe to inject. Try switching it off.
If the menu is missing text and looks like this:
HTv9O8G.jpg?1
Then the English.ini files is missing OR inside GamingOnSteroids.ini, the first line leads to incorrect path.
If you need Enghlish.ini, you can reinstall GoS loader, or download it from this thread: [English.ini] Default by Ohm.
To fix the path inside of GamingOnSteroids.ini, open it and edit the first line:
[LANGUAGE]
LanguageFile=C:\Users\CHANGE_THIS\AppData\Roaming\ GamingOnSteroids\LOL\English.ini
If it's in default %appdata% location, edit the USERNAME, if not, just point to wherever your English.ini is.
4.CONFIGURATION
The GoS uses a precompiled scripts, that covers all champion, so once you get in menu, you need to setup combos and other details for your champion.
You can check all features explained here: GoS General Features
If you are too lazy or cannot make a good config; you can check this thread: GoS Configs for champions by Zypppy
and download config file for all champions.
You should place it in you %appdata%/GaminOnSteroids/LoL/ folder and make sure to edit GamingOnSteroids.ini so that it points to your English.ini config file.
example:
[LANGUAGE]
LanguageFile=C:\Users\CHANGE_THIS\AppData\Roaming\ GamingOnSteroids\LOL\English.ini
That's it for now, I hope I managed to help you.